Chemicals
Choosing disinfection products
There is no single perfect disinfectant for use in all circumstances. It is important to consider the surface to be cleaned and the harmful microorganisms most likely to be present. Most disinfectants are effective against most bacteria, enveloped viruses
and fungi (Examples of enveloped viruses include influenza, respiratory syncytial virus (RSV), herpes viruses and HIV). Non-enveloped viruses are more resistant, and are only killed by a few disinfectants safe enough for routine use. Examples of non-enveloped viruses include noro-virus, rotavirus and human papilloma virus (HPV). Other agents not reliably inactivated by most disinfectants include ringworm, some protozoa and, parasite eggs such as roundworm and whipworm, and external parasites such as fleas, ticks and mites. 
Choosing disinfection products
• Disinfectants MUST be used at the correct concentration. Going by smell or color or "eyeballing" it leads to extra expense and potential toxicity if too much is used, and ineffectiveness if too little is used. Cleaning protocols need to include clear instructions on how to correctly dilute the disinfectant to be used.
• Adequate contact time is required. Virtually all disinfectants require a contact time of at least ten minutes. Spraying on, and wiping off immediately will not prevent the spreading of bacteria or disease.
• Disinfectants must be applied to a basically clean, non-porous surface, free of organic matter. Porous surfaces such as wood, carpeting, unsealed concrete and turf can't be completely disinfected.
• Disinfectants and detergents can cancel each other's actions, and should not be mixed unless specifically directed by the manufacture.
. Clean using a detergent/soap product and mechanical scrubbing with a brush, rag, paper towel, etc. Allow solution to sit a minute or so to avoid leavening behind a film of potentially harmful microorganisms.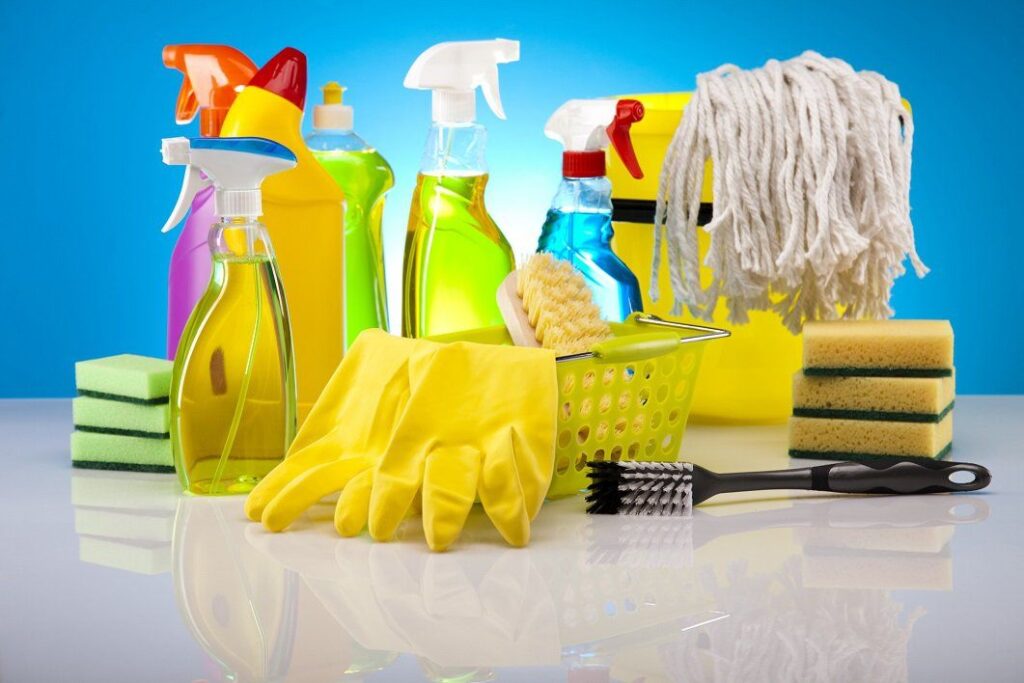 •       Disinfect using a germicidal product is effective against whatever harmful agents are likely to be present. For areas that are not heavily soiled, in some cases steps, two products can be combined if a product is used that has both disinfectant and detergent qualities.
Bleach has no detergent action, (or soap) and should not be used as the sole cleaning agent on some area. Disinfection with bleach requires prior cleaning of the surface with a detergent or if cleaning with tools and outside equipment allowing it to sit a few minutes.
I have always found bleach to be a great cleaning agent when use in conjunction with soap. It has been recommended to me not to use bleach on certain surfaces like the inside of the microwave, refrigerators, and some countertops; however I have not found using bleach on any of these surface to be unfruitful. Once a surface is rinsed well with hot or warm water bleach is very affective in killing germs, bacteria, and some viruses.
Most people want to use environmentally safe product, which are great; but they often take more time to clean hard or stubborn stains.  
Bleach (Sodium hypochlorite)
Chlorine is a respiratory irritant that attacks mucous membranes and burns the skin, so use precautions like protective gear.
• Member of halogen family of disinfectants, which also includes iodine and     related products.
• 5% solution diluted to (1/2 cup per gallon) completely inactivates Parvo, and Calicivirus viruses
when used correctly. (These viruses come from pets)     
Note: Be mindful of where you let that pet sit (most cats, rabbits, pigs, chickens)
Bleach:
• Inactivates ringworm at higher concentrations and with repeated application.
• Is significantly inactivated by organic matter, light and extended storage: should be stored for limited time in light-proof containers.
• Low tissue toxicity, but fumes can be irritating at high concentration and bleach is corrosive to metal.
• Hard water reduces effectiveness 
when used correctly. (These viruses come from pets)     
Note: Be mindful of where you let that pet sit (most cats, rabbits, pigs, chickens)
Bleach:
• Inactivates ringworm at higher concentrations and with repeated application.
• Is significantly inactivated by organic matter, light and extended storage: should be stored for limited time in light-proof containers.
• Low tissue toxicity, but fumes can be irritating at high concentration and bleach is corrosive to metal.
• Hard water reduces effectiveness 
Methods of application
Two-sided buckets are available from janitorial supply houses. Remember, buckets of disinfectant should be emptied, rinsed, and refilled between cleaning each floor or area.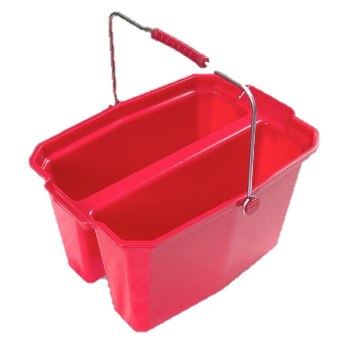 Heat Spraying:
Spraying as a method of application offers the advantage that disinfectant does not get contaminated by organic material as it would in a mop bucket (for areas in restaurants floors and or commercial buildings with drainage, and animal shelters). It also tends to be faster than mop bucket application, and commercial sprayers can be set to automatically supply the correct dilution. Hose-end or high-pressure sprayers coat the area to be cleaned more effectively than hand-held spray bottles, and should be used whenever practical or available. There are a wide array of cleaning systems appropriate for cleaning various job types are available through janitorial supply houses. Although a high pressure sprayer may reduce the need for scrubbing in some jobs.  
The chemicals they put in a degreaser work better than anything natural like vinegar because they have been developed for a specific purpose – degreasing.  So, use products that work in your environment.  Cleaning plays an essential role in our daily lives by providing important public health benefits to consumers beyond the obvious aesthetic benefits. Keeping surfaces clean and free of soil not only helps reduce the opportunities for spreading of germs but helps extend the life of our personal possessions. Since new cleaning products are constantly being developed and the chemistry of the existing products changes it just makes sense to get the best product for your cleaning needs. The health of your customers is at stake every day if the cleaning is done poorly, incorrectly or not at all!
A cleaning product is a blend of specialty materials used to remove soils and stains from a surface and to restore the surface to its original condition. Cleaning products are also used to help remove unwanted microbial contaminants from a surface.
You are a professional cleaner and should use effective professional cleaning products to disinfect, deodorize, and control disease this is the sole purpose of cleaning. 

Tools:
Brooms remove debris from floors and dustpans carry dust and debris swept into them, buckets hold cleaning and rinsing solutions, vacuum cleaners and carpet sweepers remove surface dust and debris, chamois leather and squeegees are used for window-cleaning, and mops are used for washing floors.
---
Alcohol (usually in hand sanitizer)
• Effectiveness similar to ammonia.
• Commonly used in hand sanitizers, not used as an environmental cleaner.
• Less irritating to tissue than ammonia or bleach.
• Ethanol at 70% concentration is more effective than other alcohols against Calici-virus.
• No effect on Parvo, ringworm.
Gloves should be worn whenever these diseases are suspected in a home.
• Adequate contact time required (15-30 seconds recommended by manufacturer. Try it – 30 seconds is a long time!).
• Hand washing with soap and warm water or thoroughly cleaned with hand sanitizer is preferable when leaving any and all properties. 
Ammonia has the chemical formula NH3. The ammonium ion is NH4+. Ammonium hydroxide is NH4OH; ammonium carbonate, (NH4)2CO3; ammonium chloride, NH4Cl; ammonium nitrate, NH4NO3; ammonium sulfate, (NH4)2SO4.
Ammonia:
Ammonia, an industrially important chemical compound of nitrogen and hydrogen. Ammonia dissolves readily in water, alcohol, and ether. In solid form, it is white and crystalline. Ammonia is used in the manufacture of dyes, explosives, plastics, drugs, nitric acid, and many other chemicals. Ammonia dissolved in water forms ammonium hydroxide. Diluted ammonium hydroxide is household ammonia, which is used for many types of cleaning.
Ammonia (NH3) is one of the most commonly produced industrial chemicals in the United States. It is used in industry and commerce, and also exists naturally in humans and in the environment. Ammonia is essential for many biological processes and serves as a precursor for amino acid and nucleotide synthesis. In the environment, ammonia is part of the nitrogen cycle and is produced in soil from bacterial processes. Ammonia is also produced naturally from decomposition of organic matter, including plants, animals and animal wastes.
About 80% of the ammonia produced by industry is used in agriculture as fertilizer. Ammonia (ammonium hydroxide) is commonly used as an ingredient in household cleaning supplies, such as glass and surface cleaners, disinfectant aerosol sprays, and jewelry cleaning solutions. When it is exposed to the open air, it turns into a gas with a distinct sharp smell. Most household cleaners contain a 5% to 10% concentration of the substance, which is generally not strong enough to harm an adult, but it can cause eye, nose, mouth, and lung irritation
Inhalation: Ammonia is irritating and corrosive. Exposure to high concentrations of ammonia in air causes immediate burning of the nose, throat and respiratory tract. This can cause bronchiolar and alveolar edema, and airway destruction resulting in respiratory distress or failure. Inhalation of lower concentrations can cause coughing, and nose and throat irritation.
Skin or eye contact: Exposure to low concentrations of ammonia in air or solution may produce rapid skin or eye irritation. Higher concentrations of ammonia may cause severe injury and burns. Contact with concentrated ammonia solutions such as industrial cleaners may cause corrosive injury including skin burns, permanent eye damage or blindness. The full extent of eye injury may not be apparent for up to a week after the exposure. Contact with liquefied ammonia can also cause frostbite injury; so use you PPE and be careful.
Ammonia
Safety:
Like many other chemicals that are used to clean things in the home, ammonia has the potential to harm to people and pets. Before a person starts cleaning, he should open any windows and air vents, and turn on ceiling fans. If there aren't any air vents or ceiling fans nearby, he should place a small box fan in the window to circulate the air in the room that he is working in. Pets and children should not be around while ammonia is being used since the fumes are likely to affect them more seriously than an adult.
Avoid Bleach:
Ammonia should not be mixed with any other common household cleansers or soaps, as they may contain chlorine bleach. When the two compounds come into contact, they chemically react and release toxic gases into the air. Inhaling these gases causes nose irritation, swelling of the throat and lungs, and fluid buildup in the lungs.
Cleaning Surfaces:
Stainless steel surfaces, tempered glass stove tops, glass windows, porcelain fixtures, and most types of kitchen counters can be cleaned with ammonia. Individuals can make a cleaning solution by mixing roughly one part ammonia to two parts water and adding it to a spray bottle. It can be used in the same manner as any window or surface cleaner. The spray is particularly good for shiny surfaces, since it will not leave streaks and does not need to be rinsed.
The cleanser is also handy in the bathroom, as it removes soap scum buildup and hard water stains from porcelain sinks, tubs, and wall tiles. People can use it to remove soap and water spots from mirrors and glass shower doors, and return dingy metal fixtures to their original shine. While the cleanser does not need to be rinsed
Note:  Ammonia can damage no-wax floors, specialty tiles, and fabrics such as upholstery and carpeting.
*        Important Note:                     
Virus particles like these are responsible for sickening 23 million people in the U.S. every year
What is Noro-virus? How Contagious is it? Can it be fatal?
A Massachusetts college closes down after over 100
Students fall ill with Noro-virus infections
An outbreak of stomach flu Dennis Hanno, Babson's undergraduate dean, says that 131 students have visited the school's health services clinic since Wednesday complaining of nausea, vomiting and diarrhea—all symptoms associated with noro-virus, Although the illness' symptoms can be debilitating, they are typically short-lived among healthy individuals. The winter months throughout the country are marked by an increase in gastrointestinal distress. The culprit is often thought to be norovirus—a highly contagious type of stomach virus that can set off bouts of severe nausea, vomiting and diarrhea. According to CDC estimates, norovirus causes about 20 million cases of gastroenteritis—swelling of the linings of the stomach and/or intestines—each year in the United States alone, The school is using bleach-based cleansers to scrub all surfaces—every last keyboard, mouse and door handle—in all common areas such as classrooms and dining halls. Students have also been given cleaning supplies to sanitize their own rooms and access to free laundry to clean all potentially contaminated clothing—and they are advised to wash their hands frequently.

How do you catch it?
Noro-virus is spread through the fecal-oral route, meaning that you get it by ingesting fecal matter from another person. You can get it by shaking hands with an infected person who didn't wash their hands after using the bathroom. But most likely, you would get it by eating food prepared by someone who hasn't washed his or her hands. You can also become infected putting your hand in your mouth after touching contaminated surfaces such as doorknobs, where the virus can probably be infectious for days.
Coco Ballantyne 2012 Scientific American, a Division of Nature America, Inc.