Introduction To House Cleaning
The Home Cleaning Business 
The homes that you care for should be maintained in an immaculate condition. Your clients should want to refer you to every one they know. If they do you have done you job and made quite an impression; this will speak volumes for you everywhere you travel in your business.
Get Ready, Get Set, CLEAN!!!
French Doors
Columns
Entry Foyer
Chandler
Rot iron Stair rail
Balcony overhang
Marble
Stair Case
Wall Sconce Lights
Recessed Lights
Mantel
Window Treatments
Hearth
Wood Blinds
What Do I Move?
What should be moved?
Be sure to use both hands when grabbing items and use a latter when necessary. Place items on a surface when it will be safe from getting damaged.
Move everything to dust, then replace
Never sort or move the mail, instead create a nice area for it or find a basket in the home that mail and papers may be placed in.
Never grab items with one hand always use both hands sit items in a safe location until you are ready to replace item in its proper position.
When cleaning clear an entire surface when working, then replace after you have
Cleaned the area, this will eliminate braking items.
When you're working try not to move around a lot. Find a central location so that
You may complete a task. This will keep you from stepping on items in your area.
Never work in tight spaces, it will become very easy for you to bump into items
Like lamps and pictures and knock them over. Always use caution when maneuvering in a client's home.
A chaise lounge is an upholstered sofa in the shape of a chair that is long enough to support the legs.
Emac Insight:
Teak wood is one of the hardest woods in the world. To keep it healthy it requires oil. No other wood compares to teak regarding its durability, elegance, stability and low maintenance; making it the ultimate choice of material for furniture construction and ship building worldwide. Oil furniture polish are better on hard woods like teak.
Emaculate Cleaning Systems
Categories of home cleaning
Tools Needed:
Several cleaning towels
Natural cleaning solutions
Vacuum
Broom
Floor mop of your choice
Dusting cloths
Bucket
Single razor blades
Toilet brush
One or two large trash bags
Sponge with abrasive side
Paper towels
Wet Cleaning: is all the cleaning areas in your home where water is used. Wet cleaning has three areas of concentration.
Bathroom Shower stall – This stall a mildew that has grown into the calking this in most case is unrecoverable but can sometime be bleached back white. but should be replaces in 95% percent of the cases
Bathrooms
To clean the shower, cover entire shower surface with bleach or a natural-based spray solution. Allow the solution to sit for a few minutes. To remove mildew use a soft abrasive natural cleaner to scrub grout and shower walls. When a solution sits on a stain it breaks down and kills the fungus and germs that are a result of our body chemistry that have been left behind in the shower and fused with water causing the bacteria to grow. When you've cleaned the shower completely, wipe the wall with a natural based window cleaner or a vinegar and water solution then dry with a clean towel. If you use vinegar and water use one cap of vinegar and one quart of water. The vinegar and water solution is a great disinfectant and eliminates all types of germs and leaves a great shine in your shower.
Note:
Mildew can become immune to chemical solution used on it over a period of time; causing the cleaning treatment to be of no effect. Bleaching will then only cause mildew to be white and appear to be gone; however it will remain. Be sure to alternate cleaning solution every six months to insure proper cleaning.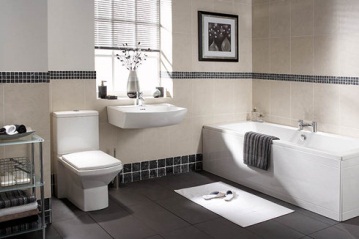 Bathrooms can be difficult to clean. However; simple daily maintenance can help you easily conquer this job. This regime represents a thorough bathroom cleaning. To maintain you only need to wipe up after using the bathroom.
Note: be sure to wipe all towel racks, light fixtures, and toilet paper holders because dust gathers in these areas and they often are overlooked. Wiping shampoo bottles dry will also cut down mildew buildup as well as spreading shower curtains out evenly so that water can dry.
If you are a professional cleaner you will see these things and much more.
Don't be Squeamish
Bathrooms
Be sure to wash the base of the tub.
Hair filled Drain
Dirty Sinks Can
Cause Clogged
Drains
Keep Drains Clean
A clogged drain is a dirty drain. Shower, tub, and bathroom sink drains can become clogged with hair, soap residue, toothpaste, or just about anything.
Remove the drain stopper and clear out any hair or debris that has accumulated using a straightened coat hanger to reach into the drain or toothbrush. This should be done at least once a week! Always remove the stopper before cleaning your sink or bathtub (to prevent soap build-up) and then rinse it before replacing it.
Feces on flush handle
Dog feces on carpet
Feces on toilet seat
In a home cleaning business there is no telling what you may find when you enter a home. Never allow your facial expression to show your surprise. Always smile and let the customer that you will get back to them for an estimated cost. Remember you're in the CLEANING BUSINESS!!
It will not always look like this. And even if it does don't let first appearances fool you this look so good kitchen is quite a dirty
Kitchen
-The counter tops of full of nasty hand prints
-The microwave is dirty
-The oven cook top has spill overs on it 
-The refrigerator door handles are filthy 
-The floor is sticky
This information is true for cleaning all cabinets, kitchen cabinets, office cabinets, or book shelf cabinets.
Clean Cabinets Video
KITCHEN
In a kitchen you have a sink, counter tops, cabinets, refrigerator, microwave, and stove. You use water and natural cleaners to keep these areas clean and sanitized for food preparation. Be sure to sweep entire floor of kitchen making sure that all food particles, dirt, and dust are removed from the floor.
The kitchen sink should always be cleaned with a natural-based disinfecting cleaner or bleach solution and then rinsed out with hot water to remove all cleaning residue. If a sink is not being used it may be polished with a natural stainless steel cleaner for a nice shine. A natural polish in a sink will eliminates the water spots and keep the beauty and durability of the sink. Polish keeps the sink from rusting and looking old and warn out. The sink nozzle should be washed and wiped thoroughly and the inside of the faucet must be cleaned of mildew and grime which accumulates because of moister. A clean faucet will help in keeping bacteria from falling into you cooking and drinking water. After you have cleaned the sink wipe it down with a clean dry towel.
If counter tops are tile, laminate, or Formica wash with a natural-based disinfecting or bleach solution. For granite, corian, and marble, use the cleaner specified by the manufacture. If these are not available to you, you may also use a mixture of baking soda and water.
Kitchens
When you find hard food particles that are stubborn to remove dampen with soapy water and use razor blade to remove from hard surface. Baking soda is a natural chemical salt that will purify your surfaces and not leave any harmful residue behind and because baking soda's neutralizing action on acidic scent molecules makes it an effective deodorizer. After washing counters wipe dry with a clean dry towel
One of the most noticeable areas when you enter into a kitchen are the cabinets. Weather they are oak, hickory, maple, laminate, or stainless washing your cabinets with a natural based cleaning solution is safe for the surface of the cabinets. It is safe to use vinegar and water to remove grease and slug from the cabinet surfaces; you may also use baking soda and water. If your cabinets are dry use a natural wood oil to keep cabinets from drying out and losing its' natural shine; orange, lemon and soybean oil is good for kitchen cabinets as well as furniture, or you can simply use some olive oil. After washing cabinets down wipe dry.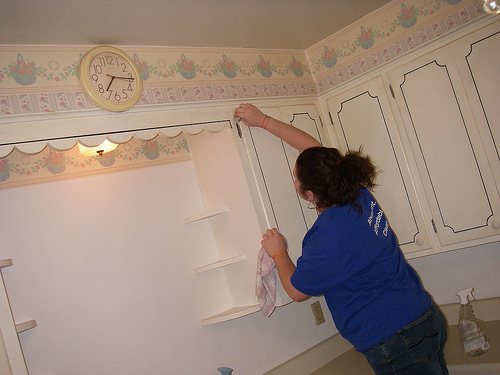 House Cleaning
Refrigerator
Cleaning a refrigerator may be a little more challenging. You first need to throw away all bad and outdated food. Make sure to check the dates of your salad dressing, jellies, lunch meat, and mayonnaise sense these items usually stay in the refrigerator longer. You need to remove all drawers and washable panels. Wash these items with a natural –based disinfecting or bleach based solution and sit them to the side to dry. Next get a bucket of naturally-based soapy (natural soap product can be purchased online or at your local home improvement store they are also a great degreaser) warm water and began washing all interior shelf and doors of the refrigerator. Wipe all sticky surfaces and mildewed compartments. Wash glass tops and trays inside of the refrigerator. Close doors and wipe the outside, as well as the top of the refrigerator. Now go back inside and dry all surfaces with a clean dry towel. Repeat the drying process on outside of refrigerator. Replace shelves and food drawers and then replace all useable items.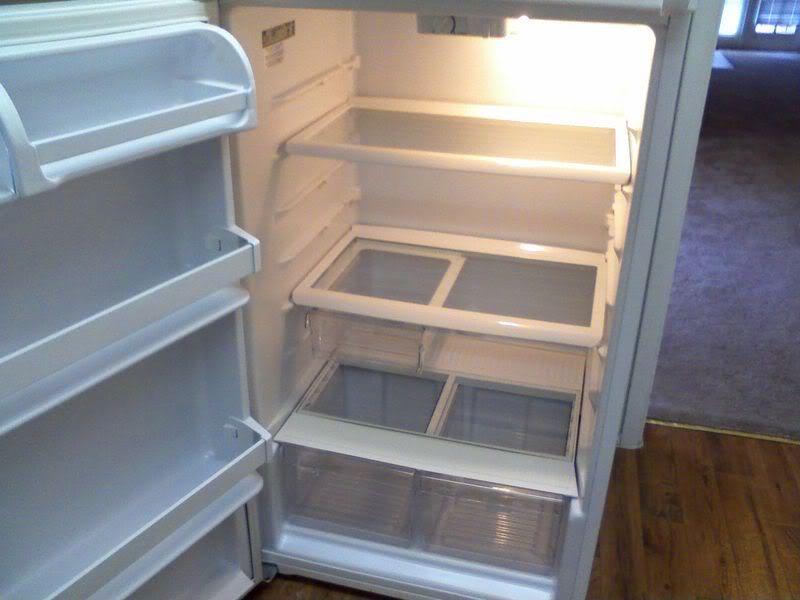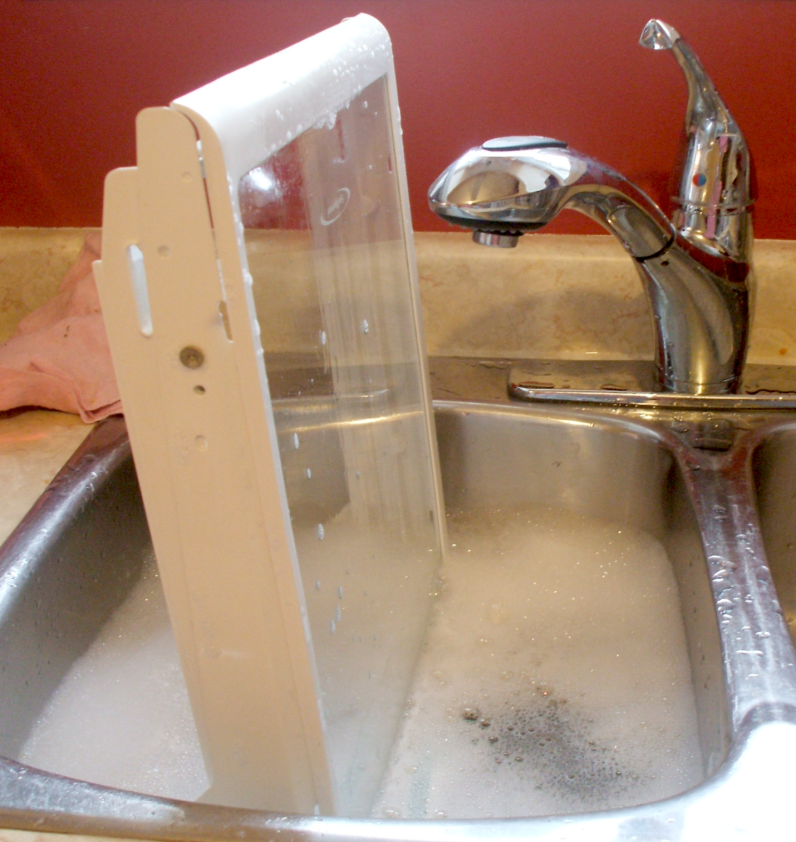 Inside a Clean Refrigerator
Clean the coils on the refrigerator remove front bottom panel and vacuum
Keep the top of the fridge clean
Microwaves
A microwave should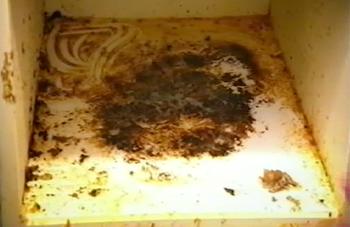 To clean a microwave, remove glass tray and spray the exterior down with a natural cleaning solution. Wash with soapy water in kitchen sink. Sit the microwave glass tray aside. Spray inside of microwave with a natural based disinfecting or a bleach solution and natural de-greaser then turn microwave on for fifteen to twenty seconds. Using a damp cloth, wipe microwave thoroughly. Wipe microwave again to insure that all food particles have been removed. Replace glass tray and wipe front, top, side, and back of microwave. Also remember to wipe the under portion of the microwave, cleaning the grime where microwave sits. For the interior of microwave use a damp cloth soaked with lemon juice, vinegar, or baking soda in conjunction with a soapy water solution. If the microwave is soiled badly, saturate the inside of the microwave with cleaning solution heat for 15 seconds and then wipe out. Clean completely all excess food particles out of microwave. After cleaning interior, wipe exterior with damp cloth or glass cleaning solution for outside beautification.
Microwaves
Spray this and let it soak before you attempt to clean for at least 30 min. wet inside well and turn on for 20 sec and wipe out
Yes, it can be cleaned!!!
Stoves:
To clean an electric stove remove electric burners that plug into the top of the stove and set aside. You will need to remove drip pans and wash or replace them. (The purchase price may be around twenty-thirty dollars at your local hardware store). Clean the interior of stove by lifting up top section between the oven and surface of the stove. This is the space between the drip pans and the actual oven, where spill fall when they boil over from the drip pans. Life the top of stove up and place the lever to hold the top up for cleaning. You may need to use a razor blade to remove burnt scum from this area. After you have cleaned the top and middle interior of stove; spray oven down with your preferred natural oven cleaner. To clean inside of oven, you may use a scrubbing pad. If the oven is self-cleaning simply follow the manufacturer's instructions. Use the same process for gas burning stoves as with electric stoves. When completed use a damp cloth to clean stove's interior. 
Flat surface cook top stove
Clean burners and stove off
Pre-Spray oven before cleaning
Always Clean Sink Out
Stoves
Make sure that stove is completely wiped down inside and outside.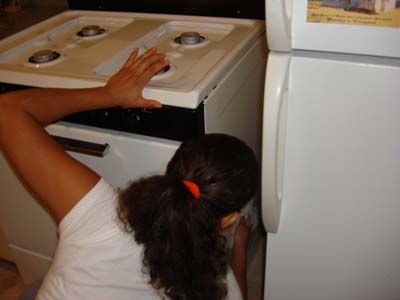 House Cleaning
Note:
Remember to wipe back splash because this is where grease builds up. The kitchen sinks window, as well as sink blinds accumulates great amounts of food particles and grease too, so be sure to clean these areas.
Empty all trash.
Windows:
Windows can be a difficult area to clean because of height issues; however if you have tilt windows this job can be made easy by simply having an indoor latter that will access all of your windows. If your windows are dirty wash first with a natural soap and water solution prepared in a spray bottle and wipe dry. Next spray a natural window cleaning solution on glass surface and buff with newspaper or a lint free cloth to make your glass sparkle, use this method for both inside and outside of your window glass. Use this same concept on mirrors in the interior of the house.
Special Note: Window washing is a different type of cleaning job if you decide to add window washing to your business be sure you are able to access all windows of the potential homes you may clean. those on a 1 story ground level 8-10 feet high and those and 3 story levels 15-35 feet high. This type of window washing requires special equipment that is covered in our window washing business class.   
Window Sills
When cleaning the outer and inner window sill the general idea for both cleaning suggestions is to get rid of as much dry dirt as possible before adding liquid to the mix. Open the window and remove the screen, if possible. Brush or vacuum the loose filth -bugs, cobwebs, etc. Vacuum these up. Once all of the loose dirt has been removed dip your brush into the soapy water, scrub the track, rinse the brush, and wipe away the soapy reside with the damp rag. You'll need to frequently rinse the rag, soap residue is sticky so don't skip this step or the track will be an even better dirt magnet then replace the screen.