The Business Set Up / Title & Hours
*    The Set Up/Title/Hours  
The Set Up:
Setting up your business is no easy task but with a little guidance decision making can be a little easier. One of the most important decision you have ahead of you is what will I call my company? You may already have a name chosen, if not think on it and try to choose something that describes who you are or what you're trying to convey about your service. Example: "Sparkle Home Cleaning Service." Once you've chosen you business name you'll need to register it by going to your state government web site to make sure your the only one using that name for your state. The web address should read something like: 
North Carolina Secretary of State Search – sosnc.gov; Texas 
https://sos.ga.gov › index.php › Corporations › creating_a_new_entity
Note:In the United States, all corporations are registered with the individual states where they do business. 
•       Research local cleaning prices
•       Figure out your average business expenses.
      1. Cleaning supplies
      2. Vacuum cleaners
      3. Travel expenses to the clients' houses.
•       Know how many houses you plan on cleaning each week.
•       How many hours will you be open and closing time.
•       Decide on seasonal hours things like Christmas and Easter
•       What will the name of your business be
•       Decide if you will need help and how much you're willing to pay
•       Keep in mind that your transportation is the key element to your business. Make sure it's reliable.
Running you own company is a blessing no matter how you add it up. You have the luxury of choosing how you'd like to do things. Keep in mind, the choices you make does need to meet certain industry standards also you want to be competitive and be view as a serious company by customers. If and when you hire people to clean for you, you can enjoy a measure of freedom and earn passive income.
You have the power to create whatever type of wealth you desire if you make well informed decision concerning the growth of your business, the possibilities for great financial comfort are endless. You must be willing to invest back into your own company and make plans on the best items needed to benefit your company, customers, and employees all of these areas are top priority and must come first. You (things you'd like to have) don't fit in until three –five years later. I know that hurts but it is better this way.
How to Charge
Tally up what you need to make in order to live comfortably. Take rent, food and other services you pay for into consideration. Also add any money you want to put in savings or have as a surplus.
The economy in your area will determine the rate you charge you customers. You may charge several different ways hourly is one by the square foot is another.
If you decide to charge by the hour note that if you live in a relatively poor area, homeowners cannot afford to pay $30 an hour. If you lived in an upscale neighborhood, however, $30 an hour would only be pocket change. Make the determination by what other services are charging for that area.

Add your average expenses to the amount of money you need to make at every house. Then, divide this by the amount of hours it takes to clean the house.
For example, you have $40 of work expenses per house, and you need to make $400 from each house you clean to cover your cost of living. If it takes ten hours to clean that house, you would charge $44 an hour.
Rates & location
Estimate
Create three base prices and then wait to see the house before giving the homeowner an estimate. You will need one estimate for a house that contains a normal amount of dirt. You will need another estimate for someone who is extremely messy, and of course one for a family that is already quite clean. You can then adjust those base prices based on the size of the home. For example, if your base price for a normal three-bedroom home is $100 and the house ends up containing an extra bathroom or family room, you can increase the price to $120 to account for the extra room.
Extras
Create a list of extras that are not included in everyday cleaning. You would normally vacuum carpets, for instance, but if the client wants the carpets shampooed, that should incur an extra fee

spring cleaning should cost extra because the more thorough work involved in spring cleaning will take more time.

Charge by the size
Charging by the size of the home is another method of calculating what you will charge your clients. You may come up with a size chart and determine price based on. This method will be your square foot method.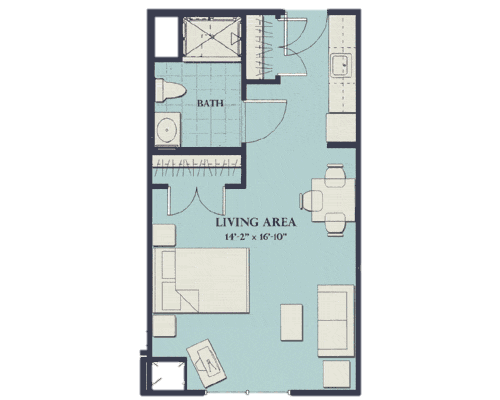 Charging by the room will make a lot of sense to you if you live in areas that is more susceptible to single living. The more rooms you have to clean, the more money you make. You may want to charge a flat rate of $20 for each bedroom the house has, or you may want to charge $15 for each room in the home. In the first instance you would make $80 for cleaning a four-bedroom home. In the second instance you would add up all of the rooms in the home, including the bathrooms, and multiply that by $15.
Inspection:
Always preform an inspection before you give an estimate on any job. Go out to the facility take notes on all that you see needs to be done and let the client know you will be back in touch with an estimate in 24-48 hours; this is standard industry practice.
Write down all of the tasks that need to be completed and how often they need to be done. Before giving an estimate create a list of extras that are not included in everyday cleaning. You would normally vacuum carpets, for instance, but if the client wants the carpets shampooed, that will incur an extra fee. In many estimates
The Initial Cleaning:
A deep cleaning or the initial first time cleaning should cost extra because the more thorough work is involved in the first cleaning and it will take considerably more time. Sometimes conveying to a potential client they are in need of an initial cleaning can be difficult. This is why and first time inspection is imperative.
DO NOT ACCEPT ANY JOB BEFORE GOING TO INSPECT!!!!
If you accept a job before you give a visual first time inspection you will likely be very disappointed with yourself. An inspection will allow you to:
•       Introduce yourself and your customer
•       Leave your business card, brochure,  and or contact information
•       Put some professional literature in their hands and explain it (not too much)
•       Get feedback as to what both you and the client may expect from one another
•       Explain your companies protocols & procedures 
•       Go through the job site and see what condition the facility is in
•       Take notes and make comments on your findings
By taking these initial steps you will save yourself a lot of time and confusion. In so doing you can show and explain to the customer what you are seeing and why they need the deep cleaning.
On the other hand if no deep cleaning is needed provide this information as well.  You may then offer them a one-time boost cleaning just to get the property in top shape this boost cleaning may add an additional 1.5 hour to your first time cleaning but it is certainly not a 10 to 12 hour deep clean. Depending on the condition of the home a deep cleaning can take several days; so be sure to inspect properly.   
You will need good health insurance for yourself and any committed employees, some type of retirement goals, and personal compensation if you are unable to work for a period of time.
Excitement
When we start off in business and began to make money we become excited and the goal is to have a better life. Yes! But, it not your turn yet you have to build the business first. Don't run out and start buying things (cars, houses, boats). Build your company first. This will take some discipline for many; but it is the best and safest way to go. Remember SAM gets his first (IRS). Start off right and you don't have to worry about if you did anything wrong. 
Company Rules:
I personally suggest that YOU, as a business owner always have a clear understanding of what is taking place in your company. When you reach the place of having many employees and office managers. Never leave all your decisions in the hands of someone else. Be sure to keep your mind on your investment. Continue to go around and meet and great your clients. Be quick to ask for suggestions for better service, and send seasonal gifts if possible. By doing this you will keep loyal customers because they feel they can trust and RELY on you. 
A new house is out of the question in the 1st 3-5 years if you were homeless get an apartment low budget.
How to get square footage
1. Measure out the square footage for the area that will need to be cleaned with measuring tape. This can be done by writing down the measurements of the length and width of the room. Multiply length time's width to determine the square footage amount. For special shaped areas such as triangle shaped—multiply the bottom by the height and then divide that amount by two. Keep a record of these measurements.
2. Pull the tape out until you reach the opposite wall and hold it against the wall. The steel tape is pliable, so you can bend it to hold it firm against the wall above the baseboard. Be sure the tape is in a straight line across the room.

3. The measurement is in feet and inches. For example, if the tape reads 12 feet 2 inches, do not round down. Mark it on your paper as 12 feet 2 inches. Repeat the procedure for the length of the room. Again, be sure to record the exact measure in feet and inches.

4. Now, to get a good idea of your square footage, you can multiply the feet only, if your inches are only one or two inches to each measure. For example, for a room measuring 12 feet 2 inches by 14 feet 1 inch, you can multiply 12 x 14. This equals 168 square feet.
 5. Measure the length of the property you can walk off the area or use ruler tape. Let's say the width of the property is 100 feet and the length is 50 feet. Multiply the length by the width for the total square footage. The answer is: 100 feet x 50 feet = 5,000 square feet
6. Your foot — with this one it helps to know your European shoe size: 35 = 9′, 40 = 10″ and 45 = 11″. This is more accurate but more time consuming than using your stride to measure a space, as you must walk toe to the heel of your next foot. If your shoe is a size 6 double you stride. Each stride is a foot count them off from wall to wall for length and then do with. Multiply the two to get the square footage. If you need to do this for every room do so and write it down and then add up the sums for a total square footage of the building or area in question.
Always present a printed list of services your company provides to any potential client. 
---
You can start you company anywhere from $1500-$3000 for some simple supplies. Just because you are just getting started you don't have to look like it. You can go to your local home warehouse store and get a mop bucket and a wringer. A mops some cloths a cleaning caddy and cleaning chemicals. Get a work smock or tee shirt with your company name printed on it. Get your literature, business card and a smile and get going. You don't have to have all the cleaning supplies but you do need to know what you are doing and saying. You are a pro now; "Be a Professional".
First things first set everything up that you need Insurance, License, and be ready to quickly move forward. Get a customer first before you spend a lot of money. People think that they've got to buy this, they've got to buy that, but you need a client first. In most cases they're not going to ask you to start tomorrow night, you're going to have some notice there. So that will give you time to get other things together that you would need, but you would know that you're going to have a guaranteed income coming in every month, because you got the customer lined up first. They don't know what you have or don't have. You can get what you need after you get the customer. You probably already have most of what you need at home with you, except for the things you would need from a janitor supply store or home warehouse store. The only other item is a trash can with caster on it (wheels) which you can buy at Home Depot or Lowes Home Improvement.  
---
Things to Consider
Once you are established and are gaining employees you will need to plan your benefits package. Your pricing includes all worker benefits. Generally, an additional 50 percent added to each worker's salary should cover workers' compensation insurance, payroll taxes, insurance and holiday and sick leave pay. Finally, add in a profit for you and your company. Be realistic, because your competition will be using the same figures that you are.
The Basics of Employee Benefits
What's required? What's not? And what's just good policy? This primer will help you figure it out.
Once you have great employees on board, how do you keep them from jumping ship? One way is by offering a good benefits package. Many small-business owners mistakenly believe they cannot afford to offer benefits. But while going without benefits may boost your bottom line in the short run, than penny-wise philosophy could strangle your business's chances for long-term prosperity.

Heading the list of must-have benefits is medical insurance, Offer the right benefit, and your business may just jump-start its growth. "Give employees the benefits they value, and they'll be more satisfied, miss fewer workdays, be less likely to quit, and have higher commitment to meeting the company's goals." The research shows that when employees feel their benefits needs are satisfied, they're more productive."

Benefit Basics
The law requires employers to provide employees with certain benefits. You must:
•       Give employees time off to vote, serve on a jury and perform military service.
•       Comply with all workers' compensation requirements.
•       Withhold FICA taxes from employees' paychecks and pay your own portion of FICA taxes, providing employees with retirement and disability benefits.
•       Pay state and federal unemployment taxes, thus providing benefits for unemployed workers.
•       Contribute to state short-term disability programs in states where such programs exist.
•       Comply with the Federal Family and Medical Leave (FMLA).
•        
You are not required to provide:
•       Retirement plans
•       Health plans (except in Hawaii)
•       Dental or vision plans
•       Life insurance plans
•       Paid vacations, holidays or sick leave
Most companies offer some or all of these benefits to stay competitive. Most employers provide paid holidays for New Year's, Memorial Day, Independence Day, Labor Day and Thanksgiving Day and Christmas day. Many employers also either allow their employees to take time off without pay or let them use vacation days for religious holidays.

Most full-time employees will expect one to two weeks paid vacation time per year. In explaining your vacation policy to employees, specify how far in advance requests for vacation time should be made, and whether in writing or verbally
The federal Family and Medical Leave Act (FMLA) requires employers to give workers up to 12 weeks off to attend to the birth or adoption of a baby, or the serious health condition of the employee or an immediate family member. After 12 weeks of unpaid leave, you must reinstate the employee in the same job or an equivalent one. The 12 weeks of leave does not have to be taken all at once; in some cases, employees can take it a day at a time.
In most states, only employers with 50 or more employees are subject to the Family and Medical Leave Act. However, some states have family leave laws that place family leave requirements on businesses with as few as five employees. To find out your state's requirements, contact you state labor department.
Providing benefits that meet employee needs and mesh with all the laws isn't cheap–benefits probably add 30 to 40 percent to base pay for most employees–and that makes it crucial to get the most from these dollars.